Birthday Cake
I've quickly gained the reputation of the bread guy amongst my friends and family. I have supported the spread of this reputation with photos of my bakes, and fulfilling requests for various breads from my loved ones.
With this new reputation and my birthday upon me, I shouldn't have been surprised when my mother asked me, "So, will you be baking your own cake?"
I hadn't even thought of that! It was the best idea I've heard in a long time. I'm on a bit of a tangent with sweet breads anyway. I might as well make one of this titan of desserts: the cake! Even more specifically, the birthday cake.
I set out to bake a two-tiered yellow cake with buttercream frosting from Rose Levy Beranbaum's "Rose's Baking Basics". This book has some great starter recipes, and I've baked some quick breads and cookies from it previously.
You'll likely ask yourself why the thumbnail for this post shows a single tiered cake, while I said I was setting out for a two tiered creation. Well, you'll just have to strap in for this bake and find out!
New skills
Cake!
I've never made a true cake. There have been some quick bread bakes that were really just loaf-shaped cakes. But never have I produced round layers of light, fluffy cake and stacked them into a sugary tower.
Buttercream Frosting
Along with never making cake, I've definitely never made any frosting. Especially buttercream, a frosting I hear a lot about. I'm excited to learn what goes into making a frosting. Seeing as it's my birthday, I made it my favorite color.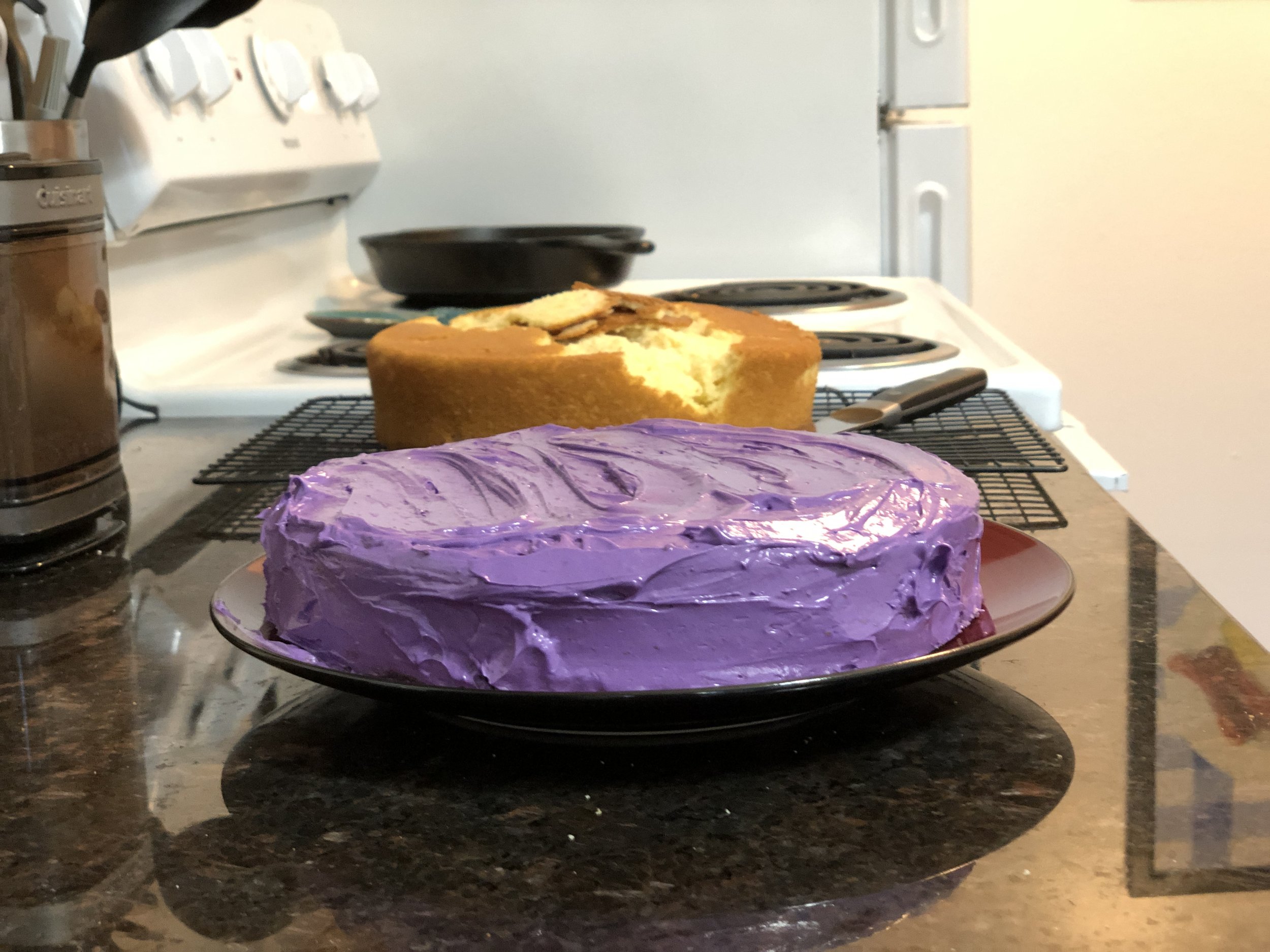 What did I learn?
Cake is fragile and read the instructions
I knew cake was light and fluffy, but I really underestimated how easy it can break. At almost every stage I found myself damaging it! I broke an entire layer, and definitely cut too much off the second one when trying to flatten out the top
I was reviewing the instructions as the cake was baking, and realized that I forgot to add a piece of parchment paper to the pan before pouring in the batter. Wouldn't be surprised if that parchment paper was added to prevent you from breaking the cake as you removed it from the pan. I won't forget it next time!
Cake is art
I was amazed at how delicate the process of shaping and frosting my cake was. You're supposed to cover the cake in a light layer of frosting first, and then add a more thick layer on top. This light layer was very tough for me to do. And yet again, I found myself damaging the cake. This makes me appreciate cake even more, as the creation of it seems to damage it.
How'd it eat?
The cake was deliciously light and soft. The frosting was a bit uneven in places, but not severely. I don't really know enough about cake to comment on the "crumb" or anything like that. I'll have to learn more about cake and try more recipes to figure this out!